Moda ibicenca, aires hippies para el verano...
Adlib más fuerte que nunca, arrancó en junio. En todo el mundo, este estilo arrasa incondicionalmente por sus ganas de vivir y su frescura.
Ibiza, año tras año acoge a sus adeptos y a pesar de la crisis, parece que Ibiza permanece inalterable al devenir de la economía del país. Gente de todo el mundo, se dan cita con la llamada del buen tiempo y los periodos vacacionales en la mágica isla que a todos encanta.
Libertad, sol, mar , bellas playas, fiestas de noche, música y moda mucha moda...
&
Fashion Ibizan hippies for summer air ...
Adlib stronger than ever, started in June. Worldwide, this style sweeps unconditionally by his zest for life and freshness.
Ibiza, year after year welcomes its followers despite the crisis, it seems that Ibiza is fixed with the future of the country's economy. People all over the world come together with the call of the good weather and the holiday periods in the magical island that everyone loves.
Freedom, sun, sea, beautiful beaches, night parties, music and fashion a lot of fashion ...
El sueño de una noche de verano se vive en Ibiza...
Acompañadme...
The dream of a summer night live in Ibiza ...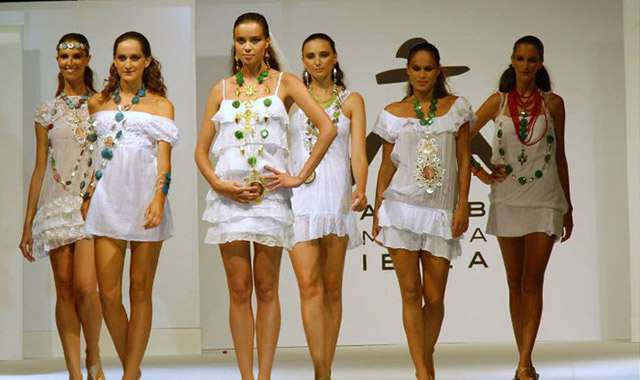 Hippy Chick is an explosion of color that celebrates the joy of living. The designer Cecilia Rossini, from Argentina, is the creative talent behind a brand born in Ibiza and inspired on the island lifestyle. We love the versatility of their tunics and kaftans, ideal for a perfect look from the beach to the club. This year, Hippy Chick will present at Adlib Fashion Show a collection inspired by the colors of the seven chakras or energy centers of our body. Today we feature a brand designed for glamorous women.
Some creations of the Hippy Chick Spring/Summer 2013 collection:
Pasarela Adlib.
Charo Ruiz, diseñadora de Ibiza.
Os dejo con dos imágenes para que penséis ya en verano. Besos.
Besos...